My dad bought this new. I got it from him with about 76,000 miles on it for $500 (US). I learned to drive in this van and took the test for my driver license in it, the Trooper thought I was joking. I passed, but did run over the corner of one pylon during parallel parking.
It was in much better shape than pictured when I bought it. The dented front fender occurred when I skidded off a wet road and flipped it on it side, busting the windshield, right mirror and my lip (lol) as well. Originally white I painted it green then later camouflage and went around the bottom with flat black spray paint, left the roof white to keep interior cooler (no roof vents)
This was a heavy hauler, tough as heck and it rode like a Cadillac if you loaded 12-15 people into it. I use to joke about having driven it, "to hell and back, several times." Was great on back roads, any back road, thanks to the optional heavy duty suspension package. For some reason many people thought it was a UFO after I added the roof mounted driving lights and boy did they light up road signs and animal eyes at night.
Few gripes except the alternator needed replaced a couple times, the water pump and starter once and got stranded once by a ballast resistor failure. The rear door hinges eventually seized and broke (annoying when some one would forget, open the back doors and you had to pick the door up to put it back on...). It had about 98,000 miles on it when I quit driving it after several years (only because the coolant froze and popped a freeze plug that was difficult to replace).
Sold as junk in the '80's.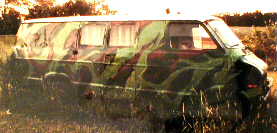 EQUIPMENT
318 CID V8 small block LA engine
747 Loadflight Automatic transmission (3 speed w/ column shift)
Heavy duty suspension
Power steering
Power brakes (front disk, rear drum)
AM radio
Right front passenger seat (an option on this model)
MODIFICATIONS
Wooden ice box and sink cabinet w/Sterno stove (installed by my dad when he had it, to run cheaper "house vehicle" plates)
(4) 55w driving lights 3x6"
(2) 55w fog lights 3x6"
Customized interior (paneling, curtains, plywood floor, divider wall behind driver, bed, velveted dash)
23 channel CB radio in overhead console w/ 1/4 whip (side mounted)
AM/FM 8 track stereo
(2) Red marker lights just behind rear axle
PERFORMANCE
Fuel economy: 11-17 mpg
Top speed: about 85 mph
1/4 mile: about 21 seconds (lol, not very quick, but better than some might think)