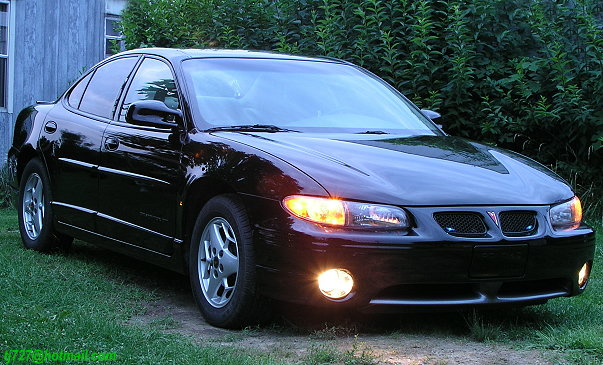 2001 Pontiac Grand Prix GT
I maintain no control over any linked site.


Needing a car to replace an aging, and rapidly failing 1981 Dodge Omni 024, I did a bit of Internet research. Knowing the features I wanted on a new car: 4-door, A/C, power steering, anti-lock brakes, automatic transmission, fog lights, power windows, dual air bags, tinted glass, CD player, good ride and crash safety rating with ample trunk area (for my biweekly grocery run), at a price I could afford. I considered the Chevy Malibu, Impala, Oldsmobile Alero and the Pontiac Grand Prix. I had considered the Chrysler Stratus or Dodge Intrepid, but didn't like the crash test data of the passenger side being slightly worse than the driver (being a driver who is a bit more concerned with my passengers safety, than my own *grin*). Thinking silver as my color choice, since me and my dad both had vehicles that color, I like the way dirt is less noticeable.

Browsing the cars at my local dealer, I decided the Malibu was not exactly what I was after, it looks a bit too narrow and no tinted glass (otherwise, a nice car for the price). No Impalas or Grand Prix SEs were on the lot (The Impala, being a bit better in crash tests lacked the ABS and traction control of the Grand Prix, so in theory while the Impala is safer in a collision, it may be more avoidable in the Grand Prix.), nor was there anything I was looking for in silver.

A dark red Oldsmobile Alero, a very nice (very loaded) little car (key word little ), looked real nice until I sat in the driver seat. Now I'm not a real big guy (5'8" @ 160# (at the time)), but this car seemed a bit tight even for me (nice size for a very small person?)

Beside the Alero was a black Pontiac Grand Prix GT sedan. While walking around the Alero, I noticed the big Goodyear Eagle LS tires on the Grand Prix (compared to the Alero's smaller Goodrich rubber), I also noticed it was bigger than the Alero, but with a leather interior... I was unsure? I did however decide to take it for a test drive, and that did it, I was hardly out of the parking lot before thinking; "I like this." It felt good, roomy, smooth, heavy and quiet. Once on the open road I was startled when I glanced at the speedometer to see I was pushing 80 mph (being use to the Dodge O24, it felt and sounded more like 50). On the return trip I tried the brakes a bit hard.... nice... for a 3500 pound vehicle the quad disk anti-lock brakes pulled it down effectively. (4/2003: which has since came in handy on two occasions)

Of the two new Grand Prix on the lot (one black, one white), I decided on the the black one, which is my first GM vehicle. Actually, many firsts for me with this vehicle; black, GM, Pontiac, 6 cylinder, fuel injected, overdrive, A/C, leather, power windows, ABS, ETS, cruise control, CD, in-glass antenna, power seat, 4-door, air bags, remote. Not to mention, being the highest priced, quietest, smoothest riding vehicle I've owned.

...and my liability insurance is only slightly more than I was paying for the Omni.


3/15/02 Been having trouble with small brown birds crapping on the front doors just behind the mirrors. I think it has something to do with the mirrors and them seeing a double reflection?
3/25/02: covered the mirrors with nylon socks (so no reflection is seen)
4/18/02: Complete covering of mirrors has only reduced the problem.
9/4/02: Haven't needed to cover the mirrors for a couple month, problem has been greatly reduced since I have observed a stray cat occasionally sleeping under the front of my car.
3/03: Needed covered again, same problem as last year.
4/04: This year trying pantyhose, works even better, legs flop around in the wind scaring the birds.
2/05: Birds are back early this year. Using pantyhose to cover mirrors again.
7/06: So far no problem this summer, but now have a cat.
3/10: Have not had this problem since having a cat.

3/19/02 Did some Internet research of my state motor vehicle laws and discovered that red (forward), white (rear) or blue (flashing) seem to be the only restricted colors. (woo hoo!) Have to make a couple phone calls to be sure before lighting it up, my state also has fines up to $1000 (US) and up to 30 days in jail for lighting violations. (ouch!) Not to mention the possible "impersonation of a police officer" felony charge, if you get too ridiculous.

4/10/02 Started to replace the amber front park/turn bulbs with SuperWhite bulbs. After changing one it was obvious they were neither super nor white. The original amber bulb was brighter and I wasn't about to drive with them installed, way too blue. Needless to say I reinstalled the original bulb. It is possible they mistakenly sent blue instead of SuperWhite?
4/03: Changed original amber bulbs to clear.
7/2/03: Changed back to original amber bulbs, after reading that clear turn signals may confuse some drivers.

4/25/02 While waiting on a recent accessory order I became a bit bored, setting in my back yard, and dug out a pair of battery powered personal strobes, an amber magnetic mount strobe I had laying around and switched on the hazard flashers. (I think I confused a few passersby)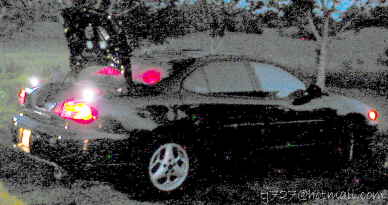 click thumbnails to view larger



5/1/02 Some shots taken with half a pair of removable magnetic "Fast Flames" graphics. $37.00 /pair
- I haven't driven with them applied, manufacture warns against driving with them on plastic covered surfaces.




click thumbnails to view larger



5/8/02 Bought a DeLorme Atlas & Gazetteer for my state. It shows back roads and recreational areas as well as state routes and highways. On occasion this might be handy to have? Fits nicely in the pocket on the back of the front seat.

6/21/02 I noticed the glove box light was on when shut and put a piece of cardboard between lid and switch as temporary fix.
//06: Used a small round adhesive electronics project box foot to correct the problem.

9/4/02 Memorex CD-RW burned with Adaptec Easy CD 4, Disk at Once, 4X speed (on my Hewlett-Packard Pavillion PC) play in the stock Delco CD player, but attempts to play Fuji CD-RW media (burned at 4X and 1X speed in EasyCD) failed with error: E20 (focus error code). Experimenting I discovered when burnt (Disk at Once, 1X speed) with the Hewlett-Packard MusicMatch software (included on my HP) some of the Fuji disks will play.
1/17/03: Am now having a problem, possibly due to colder weather, with play back of both brand disks; the Memorex changes tracks incorrectly, the Fuji refuses to play. So, I'm going to stick to CD-R disks, at least in the winter, which seem to work just fine.

11/17/02 Recently purchased a GPS unit (Garmin eTrex Legend) and have been using it for several weeks. The metalized glass doesn't seem to cause enough attenuation to cause significant signal loss in my area (central USA).
6/03: Purchased a suction cup R.A.M. mount, which I attach completely forward on the driver door window.
7/03: Obtained Garmin MapSource MetroGuide USA v5 CD-ROM. Not completely accurate in my area, an occasional missing road, but is a big improvement over the 'base map' originally included and capability for routing on the PC is easier than on the GPS unit.

4/28/03 Finally obtained a service manual. Wanted a good wiring schematic for some planned projects.

5/03 I really think the redesign for the 2004 GP was a mistake. (but that's just my opinion) I guess time and sales will tell.

6/03 Purchased a triangle reflector kit and cheap flashlight and tethered them in the trunk. photo 33K

7/14/03 Discovered that the car's interior temperature on the rear deck (parcel shelf) can become hot enough to melt silicone caulking. Small exterior lights sealed with it became stuck after a very hot day due to leakage. Thankfully they were not too difficult to pry loose.

7/18/03 Noticed the LED display on the stereo was displaying erratically
. Possibly due to todays high temperature. In the evening, when cooler, it returned to normal.
7/15/06: Still does this on very hot days, but displays normally shortly after car is started or as ambient temperature cools.

7/23/03 Received recall notice from GM, in reference to possible intake manifold coolant leakage problem.

9/26/03 Passenger power window quit working. Luckily, it was in the up position.

9/27/03 Installed a Nova EPS-404 power supply and four Hide a Strobe elements in tail lamp housings; two clear and two amber, replacing Street Glow strobes which were alright as show lights, but much to dim for use as warning flashers (original hazard flashers actually appeared brighter).
7/16/07 (19,306): left amber stobe operating erratically, disconnected both amber strobes

5/09/04 Cleaned up the mess I had in the "Appearance Mods" section of this web page.

6/18/04 Finally mounted my Whelen Slimlighter, which had been laying around for a while, in upper rear window. This is a very bright light, so I'll mostly be using it during daylight and just the Nova strobes after dark.
3/31/10: now use this mostly during winter, and remove it in hotter weather

6/23/04 Applied a new coat of wax, tried Meguire's Gold Class liquid wax this time.

8/11/04 Mounted 911EP LS12, on rear deck using the 911EP high mount brackets. This light is also quite bright.

9/25/04 (odometer: 9,???) Temporarily instlalled a pair of green neon headlight lights in front park lamp housings. Didn't drill holes, just dropped them in though OEM bulb holes.
Sometimes a bit of moisture seeps under seal into housing after washing car.
6/8/06 (15,539): Removed, left tube has become dimmer than right side.

2/11/05 (odometer: 10,447) Replaced left wiper blade after blade separated from element.

3/3/05 (odometer: 10,705) Left rear window lifter apparently broke, allowing window to drop. Luckily it wasn't raining. Pulled it back up and wedged paper between glass and seal to hold it in place until repaired.

4/12/05 (odometer: 11,070) A/C indicator light quite working.
4/20/05: A/C indicator light now working again

5/4/05 (odometer: 11,196) Driver window quit working. When tried later it works, but now I can't trust it.
7/14/06: Thankfully, window still seems to be working okay, but I still can't trust it.
10/22/06: (17,3??) Driver door window malfunction, linkage apparently broke.
3/30/10: (26,365) wedged a 1/4" (6mm) 75-ohm coax antenna cable between glass and weather strip, to keep it from sliding down

11/16/05 (odometer: 13,???) HVAC vent control knob broke. ($11.69(US) replacement from Pontiac dealer)

12/14/05 (odometer: 13,700) Locking gas cap (purchased from dealer) broke. ($11 replacement from Advanced Auto Parts)
10/22/06 (17,3??) Gas cap malfunction.
10/17/08: yet another gas cap replacement

5/3/06 (odometer: 14,977) I noticed the water level in radiator overflow tank had dropped, added about 1/2 gallon of distilled water into overflow tank.
5/5/06: Engine seemed to be running cooler than normal, about 190°F, normally it sets about 202°, unsure if that's good or not.
7/14/06 (15,950): Engine still running about 190°F. At times will creep up to around 202°, on hotter days, but quickly drops back.

7/7/06 (odometer: 15,???) While playing with the Fader and Balance controls I noticed that the left rear speaker is not working. Not exactly sure when it quit, but still sounds quite good.

7/15/06 (odometer: 15,9??) Mounted a pair of amber 911EP Star LED drones in fascia.

7/16/06 (odometer: 15,9??) Mounted an Able 2 LED flasher in engine compartment. Wired 911EP Stars to it.
6/01/09: flasher shorted/burnt out, realize I needed a smaller fuse

9/25/06 (odometer: 16,745) NMO antenna mount through trunk lid.

10/18/06 (odometer: 17,154) Pair of green LED in front spoiler.
?/?/? (??) right side LED quit burning

10/24/06 Obtained my amateur radio license.

12/20/06 (odometer: 17,3??) Yaesu FT-7800R mobile amateur radio in car.

4/2-3/07 (odometer: 18,620) Second and third NMO antenna mount through trunk lid.

8/2/07 (odometer: 19,408) Attached a 900 MHz on-glass antenna to rear window.

9/28/07 (odometer: 19,???) Attached a mini camera to dash using epoxy glue.
2/5/08 (about): camera came unglued

7/26/08 (odometer: 22,199) Removed headlight housings to drain out water.
7/31/08: re-installed after air drying, put RTV sealer around lens where attached to box
note: installation a bit tricky, must be slid toward center of car from outside edge to latch to metal hooks
3/31/10: still having problems with moisture in the housings

9/17/09 (odometer: 25,200) pair of red LED in rear bumper

11/1/09 (odometer: 25,521) new tires (replaced cracking originals) new battery (replaced cracked original)

4/7/10 (odometer: 26,450) Whelen Slim-Miser LED dash light
blog post
replaced the original 8A fuse with a 3/4 amp fuse
4/29/10 (25,524): attached it to the dash with two small screws

4/14/10 (odometer: 26,450) Whelen ULF44 LED flasher
blog post
schematic of my flasher/switch box wiring

2/21/11 (odometer: 2?,???) Mounted a pair of Whelen TIR3 LED flashers on the rear deck. Connected these to switch #4 (S4) of my custom switch box, using an inline ?A fuse.

2/27/12 (odometer: 3?,???) Now having a high voltage issue, suspect the voltage regulator is/has went bad.




STANDARD EQUIPMENT
3.8 Liter V6, 3800 Series II (Fuel injected)
Horsepower: 200@5200 rpm
Torque: 225@3600 rpm
Hydra-Matic 4T65-E automatic transmission (4 speed Overdrive w/ ETS (Enhanced Traction System) and console shift)
Gear Ratios:

1st
2.921:1
2nd
1.568:1
3rd
1.000:1
4th
0.705:1
Reverse
2.385:1
Final
3.29
Power steering (w/ Magnasteer variable-effort)
Power brakes (disc/disc anti-lock system)
A/C (w/ dual climate control)
Power windows
Tilt steering wheel
16 x 6.5" 3-spoke silver cast aluminum sport wheels
P225/60 R16 97 S Goodyear Eagle LS all-season tires
Cruise control
Tachometer

OPTIONAL EQUIPMENT
AM/FM CD player w/ graphic equalizer, 6-speaker Hi-Performance sound system
Leather interior
Full overhead console
Remote keyless entry and alarm system
Steering wheel, leather w/ radio controls
Driver's power six-way seat
Trunk cargo net

DIMENSIONS (inches) & WEIGHT
Head room, f/r: 38.3/36.7
Leg room, f/r: 42.4/35.8
Trunk capacity: 16 cu. ft.

Curb weight: 3,496 pounds
Wt. Dist. %, f/r: 65/35

Wheelbase: 110.5
Track, f/r: 61.7/61.1
Length: 197.5
Width: 72.7
Height: 54.7

PERFORMANCE
Fuel economy (mpg): 19.84 (average, over first 25 months)
variance (low-high): 17 - 22

Range (miles per tankfull): 347 approx.

Approximate estimates (from Internet data)
Top speed (limited/maximum (mph)): 108/126
1/4 mile: 16 sec. @ 84 mph
0-60: 8 sec.
60-0: 140 feet


Most useful features:

Power locks w/ remote keyless entry and alarm: you don't have to fool with the key for doors or trunk, especially handy in the rain or when it's dark, Auto locking when shifting out of Park is a good safety feature, especially if you tend to forget to lock your doors manually. Although I tend to favor home made alarm systems, this one is a nice extra.

A/C: previously lived in a cooler climate and didn't really need it, but it's real nice now

Dual climate controls: this is really good as my passenger and me never seem to agree on whether it's too hot or cold, can even run the heat on one side with the A/C on the other (dual fan controls as well would have been even better, but perhaps a bit overkill)

Power windows: especially nice with the four doors on mild days of scattered showers
2/21/11 well, at least when they were working
Steering wheel radio/CD controls: excellent safety idea, now I don't have to fiddle with the knobs and buttons while driving

CD player: certainly not essential, but nice to grab a favorite CD on the way out of the house and listen while on the road


Least useful features:

Tilt steering wheel: wheel was in a good position (for me) from the dealer, never had any reason to fool with it...yet

Reclining front seats: [same as tilt wheel, but did use it to adjust the passenger seat angle] could be nice on some occassion

Cruise control: it works good, but I live in a hilly area and seldom drive on interstates

Trunk lid release button: I usually use the button on the key fob.
2/21/11 do use this occasionally




MODIFICATIONS (mostly appearance) - - (prices are in US dollars)
(click link for available photo)

Locking gas cap (this should be standard equipment) 7/01 - $8.00

Cross necklace: hanging on interior rear view mirror 7/01

Window tint:
- rear door windows, removable static cling 20% vlt (visible light transmission) 9/01 - $12.00 / 26x78" roll

********************************************************************
Headlights: covered lens with removable static cling window tint (35% vlt)2/02 photo
- REMOVED 3/30/02
- DON'T DO THIS - I noticed tiny heat stress cracks forming on headlamp lens
********************************************************************

Auto Ventshade clear headlight covers 7/31/03 - $43.00 - REMOVED

Map lights:
- cut the purple/yellow wire on lamp housing, from the door switch, for only manual operation 5/8/02

Under dash lights: changed clear bulbs to red 4/01/03 - $2.00
red under dash - 22K

Blue markers on grille 5/03 - $4.00 - REMOVED 5/3/06
blue grille markers - 23K



Neon:
- tapped into trunk light wires (orange/black +) 5/09/02 - REMOVED
- green headlight tubes in park lamp housings 9/25/04 - $30.00 - REMOVED 6/8/06
- 6" blue tubes in trunk 5/17/05 - $30.00 - REMOVED
headlight tubes - 41K - REMOVED

Strobes:
- Nova EPS-404 4 head, 40 watt power pack 9/27/03 - $94.00
- Nova Hide a flash amber strobes in back-up lamp housings 9/27/03 - $56.00
- Nova Hide a flash clear strobes in tail lamp housings 9/27/03 - $36.00
Nova Hide a flash strobes (with blue neon) - 29K

LED:
- Rear interior lamps: replaced standard 5 watt incandescent bulb with 10 watt blue LED 3/4/02 - $10.00
- Whelen Slimlighter red in rear window 6/18/04 - $220.00
Whelen Slimlighter (with OEM hazard flashers) - 76K

- 911EP LS12 amber on rear deck 8/11/04 - $150.00
- 911EP high mount brackets 8/11/04 - $21.00
911EP LS12 (with Nova strobes and taillights) - 52K

- 911EP Stars amber in fascia 7/15/06 - $115.00
- Sho-Me Able 2 LED flasher 7/16/06 - $37.00 - REMOVED
- Whelen ULF44 LED flasher 4/14/10 - $59.00 -
911EP Stars - 180K

- Whelen Slim-Miser amber on dash 4/7/10 - $80.00


- Whelen TIR3 red on rear deck 2/21/10 - $106.00
- Whelen brackets 2/21/10 - $22.00






Odometer reading: 29,952.0 - 7/01/2011



Purchase price: [enough] - 7/07/01

Taxable accessed value Jan. 1, 2003: $11,550.00
Taxable accessed value Jan. 1, 2004: $9,300.00
Taxable accessed value Jan. 1, 2005: $8,600.00
Taxable accessed value Jan. 1, 2006: $?,?00.00
Taxable accessed value Jan. 1, 2007: $?,?00.00
Taxable accessed value Jan. 1, 2008: $5,475.00
Taxable accessed value Jan. 1, 2009: $?,?00.00
Taxable accessed value Jan. 1, 2010: $?,?00.00
Taxable accessed value Jan. 1, 2011: $?,?00.00

---
PLANNED MODIFICATIONS
Interior:


Sun visors: removing the Air Bag Warning stickers from the sun visors (until reading a Usenet post about potential liability, if I ever sold the car without the stickers). Considering another person's idea, to simply cover the visors, my mom is quite good at sewing things and I might persuade her to make me a pair of covers.
7/08/03: I've gotten use to these and no longer notice them.



Exterior:


Stickers: I've been playing with static cling US flag stickers. Then I started applying small conventional adhesive stickers onto scraps of static-cling window tint. That stuff is fun to play with, it sticks to a clean painted surface (don't leave them stuck too long). It can subtly (or drastically) change the appearance of your vehicle depending on how creative you are. And the nice thing is that it's easily removable (if not left too long). (confuse that nosey neighbor by decorating only one side).


blue wire loom (intended to replace OEM under hood, but going to use exclusivly for my wiring)


screen grill
2/21/11: never got around to this, now changed mind about doing

Lights: More LEDs, more neon


DRL (Daylight Running Lights): Make the DRL switchable. The DRL and Auto On feature needs an on/off switch. The automatic function is convenient and I imagine the DRLs improve safety (?), but on occasion they need overridden. For example: pulling into an apartment complex at 3 AM and not have the headlights blasting though the sleeping neighbors windows, approaching a guard shack, fast food drive-thru, drive-in, etc.

++++++++++++++++++++++++++++++++++++++++++++++++++++++++++++++
2/11: DISCLAIMER: I have been doing this about nine years, with noticable adverse effects on the car.
USE AT YOUR OWN RISK : The headlights/DRLs can be turned off using the headlight switch, by positioning the switch half way between Park lights and Headlights. The park lights will illuminate without the headlights.
++++++++++++++++++++++++++++++++++++++++++++++++++++++++++++++

If you want the Auto On feature to activate earlier, place a small piece of window tint film over the sensor hole (top center of dash). Other material might give you different sensitivity levels.

Engine/performance/drive train:


No plans at this time

---
Random modification ideas: (for street use: check local laws)

DRL (Daylight Running Lights): rewire to the turn signal filaments or fog lamps.

Front park lights: change bulbs to a different color (this is an easy modification)
2/21/11: have been switching between amber and clear bulbs periodically

Rear amber turn signals/aux. back-up lamps: change back-up bulbs to amber and rewire as turn signals, add auxiliary back-up lighting

(For Show Use Only)


Stealth lighting modes:


I. Forward lighting only


II. Rear lighting only: for multi-vehicle convoy, lead vehicle operating full lighting


Rear mounted caltrop dispenser (maybe I watched too many "Green Hornet" episodes?)

Rotating license plate holders like on a "007" movie? (maybe not?)

How about some remotely operated, auto deploying trunk mounted mortar tubes? An anti-aircraft cannon? Missiles? (now I'm just being silly *grin*)

What's in my trunk?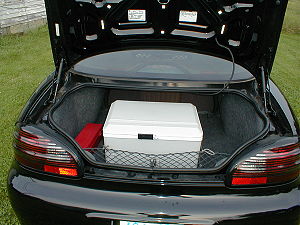 Hey, it's a bigger, electric ice box...
but what's in the ice box???
Other vehicles you'll find on this site

1984 Dodge Ram D-50 pickup
1981 Dodge Omni 024 (Charger 2.2)
1976? Yamaha DT-250D Enduro motorcycle
1973 Dodge Charger
1973 Dodge D-300 Tradesman maxi van
1970 Dodge Challenger